What is The Fullest Well?
The Fullest Well: From Fatigue to Fulfillment 3 hour self-paced online course was created as a solution for the helping professional who finds himself or herself mindlessly moving throughout the workday with the mission of helping clients suffering from trauma, serious mental illness, and chronic conditions.
The Fullest Well will guide you in:
Building a foundation of greater self awareness and self-compassion to exercise your reflective brain on a daily basis.
Calming the nervous system and activating the relaxation response to prevent you from getting stuck in survival mode.
Challenging and reframing the distorted and irrational thoughts that serve as barriers in your work.
Examining the impact of negative schemas and blocking beliefs on Compassion Fatigue.
Using in the moment recovery strategies in emotionally charged interactions with clients while mindfully empathizing with their struggles.



Here's What Else You'll Discover in The Fullest Well:
Module I: The Impact of Compassion Fatigue on Professionals, Caregivers, Population Served and the Workplace: 

Learn the History of Compassion Fatigue

Define Secondary Trauma, Vicarious Trauma and Burnout

Understand the 8 Survival Strategies

Describe The 3 Contributing Factors To Compassion Fatigue and Compassion Satisfaction

Identify at least one common Cognitive Distortion that can trigger Compassion Fatigue
Module II: Assessing and Reducing Your Compassion Stress Risk:
Learn the Symptomology of Compassion Fatigue
Use Assessment Tools to Identify Risks and Protective Factors
Review Personal and Professional History Timeline 
Module III: Absorb and Detox: 
Describe the Nervous System's Role in Compassion Fatigue
Identify the events that take place during the stress cycle as they relate to Compassion Fatigue
Implement "In The Moment" Recovery Strategies while Empathizing With Traumatized Clients 
Module IV: Combat the Common Compassion Fatigue Cold: 
Examine Negative Schemas and Blocking Beliefs

Challenge and Reframe Irrational Thoughts

Implement Strategies to Stop Replaying the Day

Implement Strategies to Activate the Relaxation Response

Identify the "Big 3" Support Team
Module V: Workplace Wellness: Increase Morale and Improve Retention:
Identify Contributing Factors to Work-Life Balance, Integration and Imbalance

Identify Components of Healthy Workspaces

Complete Individual and Company Progress Reports



**Plus a mindfulness practice at the end of each module lead by Sharise Nance


**When you register today, here's what you'll receive:
Community Access:
Get access to Monthly Live Virtual Q & A sessions held by the facilitator in the Private Facebook group amongst a community of Helping and Healthcare Professionals.

Upon completion of the course, each student will receive a certificate of completion.

Upon completion of the course, 3 Continuing Education credits for Pennsylvania and New York state licensed social workers, counselors and marriage and family therapists.
*We have bulk package specials available if purchasing the course for more than 20 staff. Contact us [email protected]






Is The Fullest Well For Me?
Target Audience:
Community Mental Health, Social Service, Educational Facilities and Healthcare Organizations employing direct line workers at risk for Compassion Fatigue, Secondary Trauma, and Vicarious Trauma
Social Workers | Psychologists | Counselors | Marriage and Family Therapists | Community Health Workers | Caseworkers | Teachers | School Administrators | Medical Assistants | Nurses | EMT Workers | Physicians | Caregivers | Other Helping Professionals who Work with people struggling with trauma, loss, mental and medical conditions.
The Fullest Well's Impact
Vitamin C Healing has collectively helped over 200 educational facilities, non-profit, social service, community mental health and healthcare organizations employing helping and healthcare professionals through live and virtual workshops which has resulted in increased staff retention, improvement in employee morale, work culture and healthier self-care practices for staff struggling with compassion fatigue and burnout.
Hear from some of our participants below: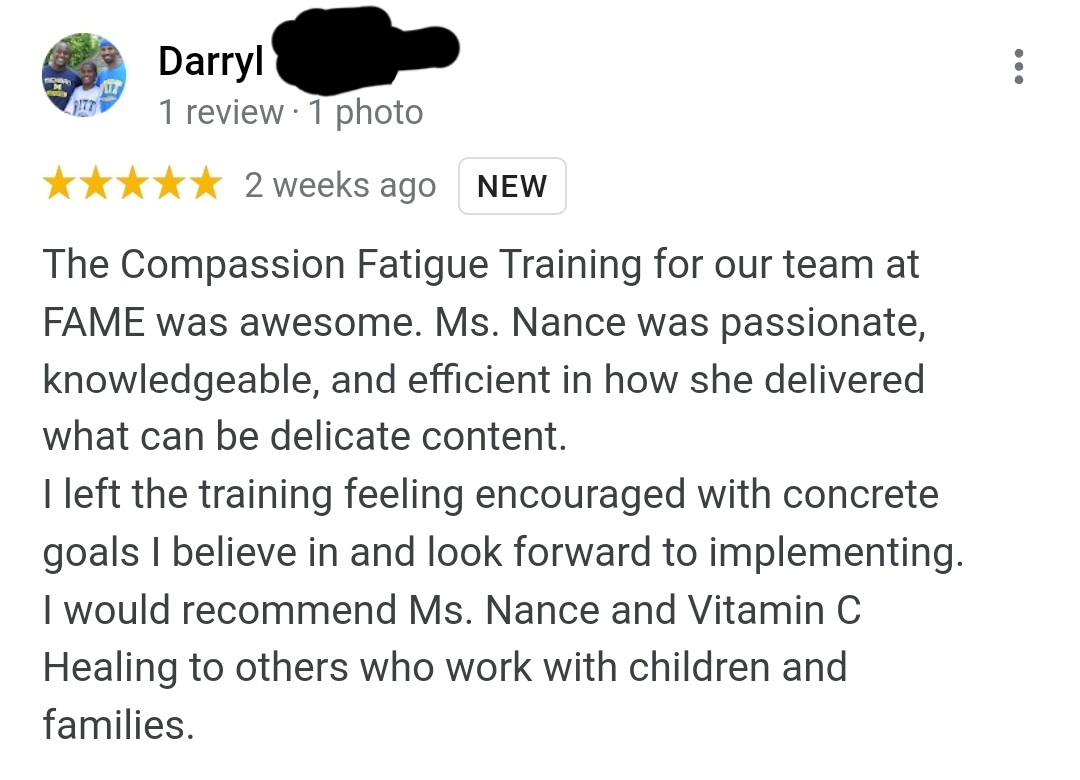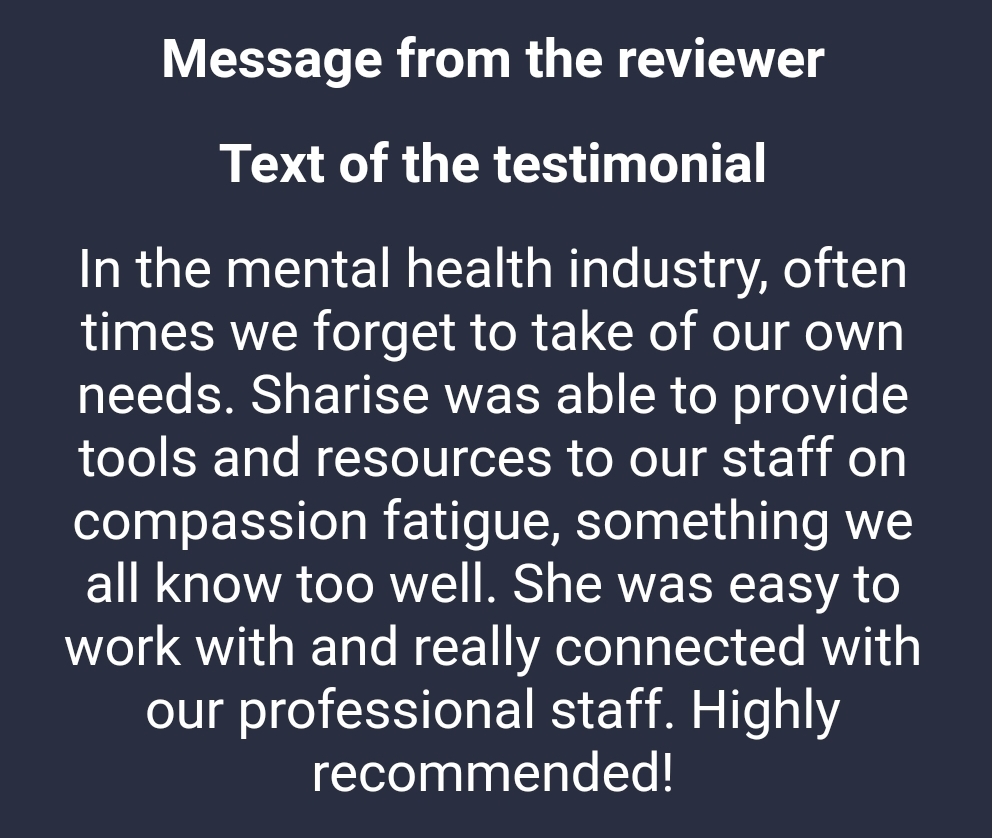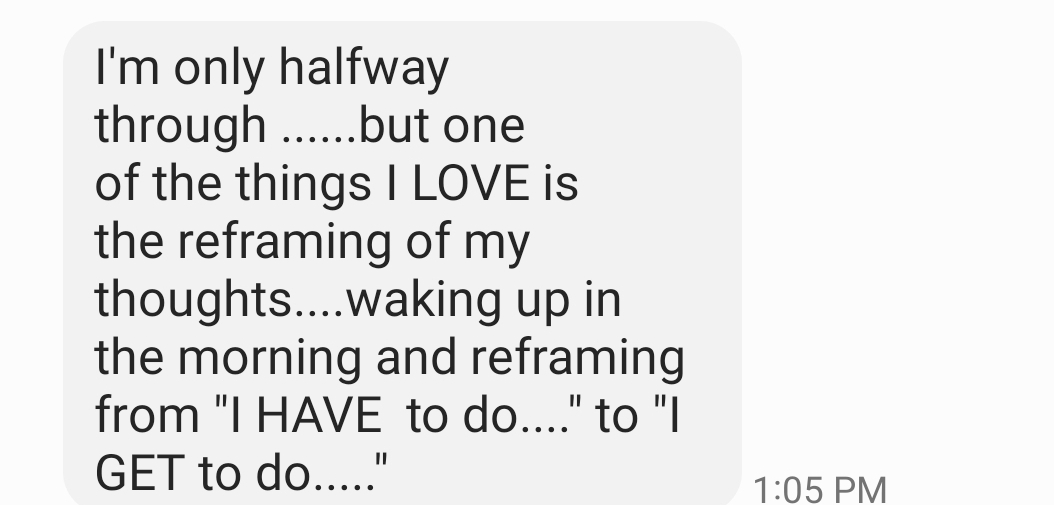 Dr. Darla Timbo, Psy. D., LPC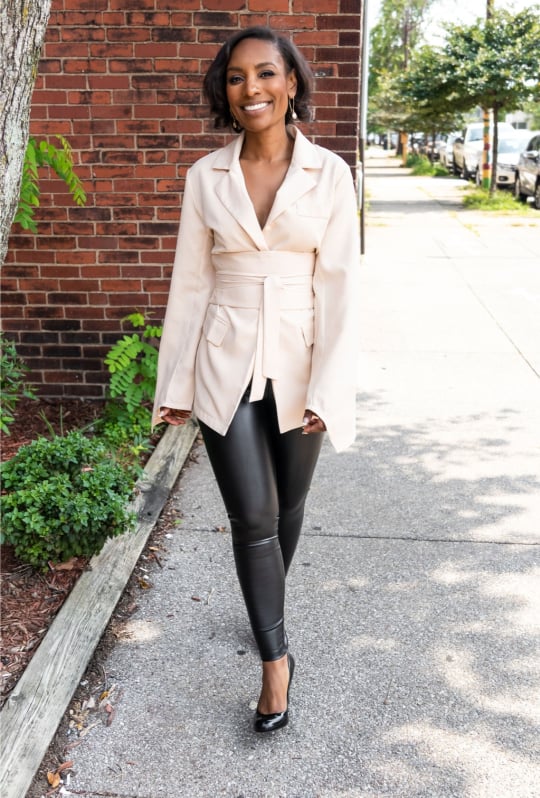 Who Am I?
My name is Sharise Nance, founder of Vitamin C Healing, LLC also known as the Compassion Fatigue Lady, Licensed Clinical Social Worker, Certified Clinical Trauma Professional, Certified EMDR Therapist, Adjunct Professor, Speaker, Award Winning Entrepreneur and Author.
I am fascinated by the human mind, human potential, and the impact relationships and environments have on one's life and the change process. Each day I get to walk in my life's purpose assisting helping and healthcare professionals see beyond energy depletion, hopelessness, panic, guilt and feeling overwhelmed and assist them in making a shift to a place of life satisfaction, joy, clarity, and fulfillment. 
Featured in the Spring 2022 Essence Magazine Issue, in the 2020 Pittsburgh Magazine's segment of Women & Business, on the front cover of 2019 Women's Independent Press Yellow Pages of Pittsburgh, the New Pittsburgh Courier, The New Social Work Magazine and highlighted by NAMI (National Association for Mental Illness)
Who Helps the Helpers?
Healers just like you have struggled to manage the common cold of compassion fatigue. Organizations just like yours have struggled to maintain a healthy workspace.
Join the Fullest Well Community today to find renewal in your work and serve from a full well!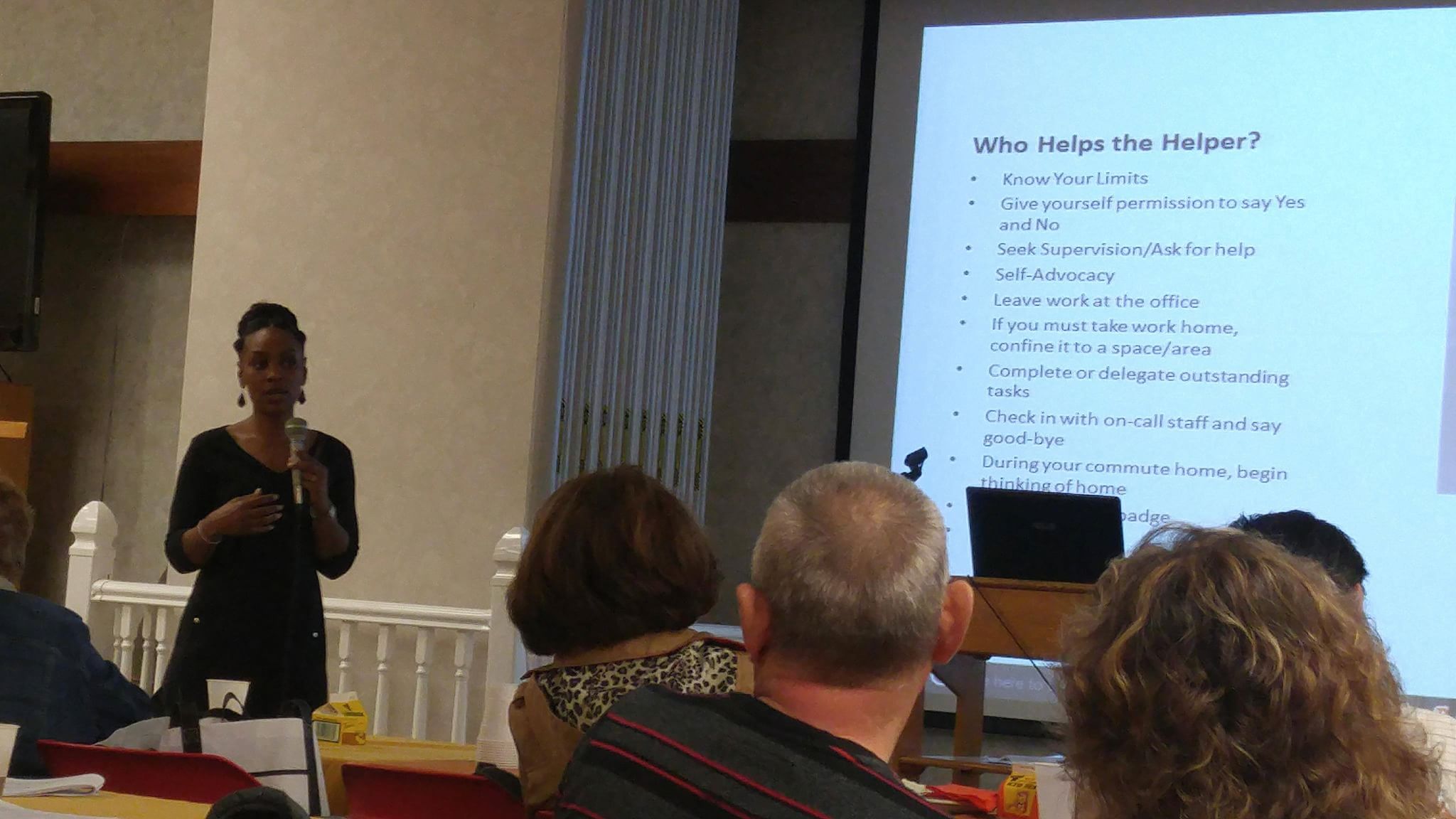 More from Vitamin C Healing Academy
From Pro Bono to Paid Speaker Coaching Program
Check your inbox to confirm your subscription